The best online credit checking tools are right at your fingertips. What most people don't know is that you can stay on top of your credit scores and reports at all times without damaging your score OR paying outrageous fees.
This article will highlight some of the best online credit checking tools, discuss the pros and cons of each, and help you make a better decision on how to go about monitoring your credit.
Why Stay On Top of Credit?
Many of the best online credit checking tools can be useful for anyone who wants to stay on top of their financial situation. Knowing where the strengths and weaknesses of your reports are, as well as where your individual bureau and FICO scores stand, is essential to putting yourself in the right position for financing a home, car, or business, opening new credit lines, and much more. Not to mention, it helps avoid taking hard inquiries that damage your score; after all, you can apply only with the creditors that are most likely to approve applications in your credit bracket.
Best Online Credit Checking Tools for Personal Finances
MyFreeScoreNow.com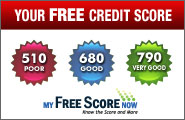 MyFreeScoreNow.com ranks first on this list for a number of reasons. In all honesty, we have found this to be one of the best online credit checking tools out there. First and foremost, you can access your score for without a commitment to a monthly membership. If you're trying to finance a new business, buy a car or home, or make any kind of moves with your personal credit, using a service like MyFreeScoreNow.com is one of the best ways to get a glimpse of where you stand so that you can strategize your approach to financing.
MyFreeScoreNow.com is partnered with all 3 bureaus to ensure prompt access and high accuracy on your reports.
The site is one of the more accurate monitoring services we've recommended to our clients over the years, and it's chock full of useful information that can help borrowers who might feel lost on topics like what constitutes a good score, how scores are determined, how the bureaus work, etc.
If you're looking for a simple and easy credit checking service, MyFreeScoreNow.com is one of the best online credit checking tools available. You can get your score by following the link below or clicking the logo image above the text.
Get Your FREE 2016 Credit Score from MyFreeScoreNow.com!
MyFico.com
We can't say enough about MyFico.com. It is absolutely, without a doubt, the sleekest, most in depth, and most effective credit monitoring service on the net. The FICO Ultimate 3 Bureau Report gives you everything you need, with instant access to all 3 reports and your FICO scores, which are used in almost every credit decision.
In addition to instant access to accurate reports, you get both the most updated FICO Score 9 as well as 8 (yes, there are several types!), quarterly reports on which has been used most, and a treasure trove of notification features. Your subscription to MyFico.com will notify you in real time when there's a change to your credit report, score, or a potential threat to your identity.
With highly competitive pricing if you stick around for more than your trial period, MyFico.com is going to be your best bet for long-term monitoring solutions. Click the image above or the link below to get started with MyFico.com.
Get Your Credit Scores & Reports From All 3 Credit Bureaus.
Best Online Credit Checking Tools for Businesses
Nav.com
Nav.com is a powerful monitoring service, and one of the best online credit checking tools for consumers needing to monitor their business credit in addition to their personal reports. Nav.com provides access to business scores for both you and your competitors, as well as identity protection services and coverage.
Nav.com also focuses on helping consumers prepare for a lending situation, so if you have a business financing goal coming up, Nav.com is going to be one of the best online credit checking tools for you.
Their premium plans will provide you with many of these features, identity protection, and online feedback and tools to help you improve your scores, but their standard service is totally free. Whether you're starting a new business up, or you're a long-time entrepreneur, Nav.com is the way to go. Click their logo, or the link to their Pricing Page
(which includes the free membership).
Help Getting out of Debt
Some of the best online credit checking tools are simply there for consumers who feel like they're in the middle of a financial downturn.
Debt.com is one of those services, without a doubt. While it doesn't offer the same kind of comprehensive monitoring services that those who are positioning for a financing push might need, it has a myriad of tools and information about everything from student loans, to tax debt, credit correction, identify theft, etc.
If you want a simple overview of your credit situation but need help tackling that bad debt, try Debt.com. They're one of our favorites, and you can check them out by clicking their banner above!
***Disclosure: This post contains affiliate links, which means we receive a small commission if you register using the above graphic or hyperlinks.